At Path Forward, we often recommend that women restarting their careers research the companies they are considering joining. It's important to understand what the company does, of course, but also its core values and culture.
In our hyper connected, social age getting the inside scoop is easier than it's ever been. You can, of course, look to the official company materials for their view of themselves. You can connect with anyone you know who might work there to get their perspective, recognizing that it will be one view based on that person's experience. And you can look to any number of review sites that promise the inside scoop offered up, usually anonymously, by a cross section of employees.
To this latter category, there is a new entrant that you may want to check out. If you've ever wondered not only if it's a good company to work for, but if it's a good company for women, enter Fairygodboss. This site, by and for women, answers the questions you really have. Sure, other sites might tell you if a company offers flextime. Fairygodboss will tell you if the flextime policies are just for show or if the women who use them have their careers sidelined. You can learn how many women are in senior positions and how well they mentor younger women coming up the ladder.
Like many sites of this nature, Fairygodboss is give-to-get: you fill out a detailed sign up form in order to access the sites reviews and other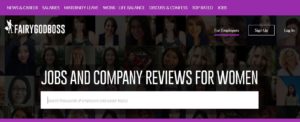 content. And you are encouraged to write reviews of your company or companies you've worked for. They are looking for real information that will help other women, especially information about great companies where women can thrive.
Here are some of the great things you will find on Fairygodboss:
Featured Employer Review From August 2016: 

"There are upsides to working for XYZ company* like their benefits, flexible hours, and perks – but there is also a double standard for men and women when it comes to career mobility, and one must have a lot of patience and be willing to work twice as hard for half the recognition. You must be able to speak up for yourself and have a willingness to ask for what you believe you deserve, sometimes twice or three times, and really stay on them to deliver. " (*Fairygodboss registrants have access to actual company info)

Articles on: 

Companies with gender diversity targets, Career Advice like 17 Best Resume Templates  and 50 Great Career Resources For Women
Information about benefits including maternity leave, flexibility and salary