Upcoming Webinars
Thinking about returning to the workforce after a career break? If so, sign up for our popular webinars!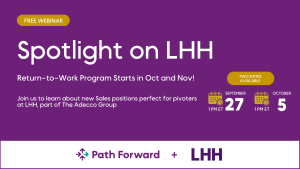 Employer Spotlight: LHH
Thursday, October 5th from 1 – 2 p.m. ET

We're excited to host a webinar with LHH, part of the Adecco Group and new employer partner of Path Forward. Come learn about their exciting sales positions that are perfect for career pivoters. Register below!
Register for 10/5
---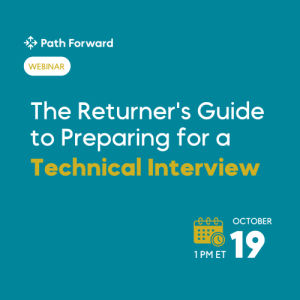 The Returner's Guide to Preparing for a Technical Interview

Thursday, October 19 from 1 – 2 p.m. ET
Interviews for tech positions often include a skills component that fills returners with dread. How can you show your technical competence when so much has changed? No need to worry! We'll provide you with insider tips for conquering everything from the first-round phone screen to white boarding exercises.
Register
---
Path Forward offers events throughout the year to connect you with employers and experts who provide helpful career advice for your job search. Many previous webinars are recorded and available to view.
You are also invited to join the Path Forward Community, a space for caregivers at every stage of the return-to-work journey to come together, share resources, and support each other. Within the community, you can sign up for Path Forward workshops and events on job search topics.