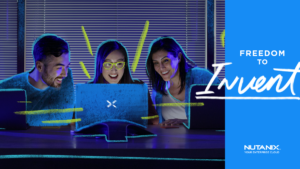 Nutanix is the leading cloud software company disrupting the multi-billion dollar datacenter space. Founded in 2009, Nutanix became a publicly held company (NTNX) in September 2016. Our mission:  Make IT infrastructure invisible with an enterprise cloud platform that delivers the agility and economics of the public cloud — One OS, One ClickTM. At 2,300+ employees around the world, we're the fastest growing infrastructure company and we're just getting started!
 Our employee experience is as important to us as our customer experience. We foster an environment where people can learn, grow and thrive. At Nutanix, you can safely experiment, fail, learn, and experiment again.  And through a variety of development opportunities, including projects, stretch assignments, boot camps, hackathons, affinity groups, training classes, leadership speaker sessions (the list goes on), you'll be challenged every day.
Across all teams, we actively cultivate and support a diverse workforce. We believe that a diversity of backgrounds, perspectives and ideas makes for a richer employee experience and enables us to deliver exceptional technology and customer experiences. In support of this belief we have signed both the Tech Inclusion Pledge and the Equal Pay Pledge, which help to keep us honest about the way we recruit, pay, recognize, promote and reward our people.
Click here to visit our careers page and learn more.