Introducing the OSIsoft (AVEVA) Returnship Program
At OSIsoft (AVEVA), we're excited to partner with Path Forward to support returners like you. We appreciate the skills, experiences, and perspectives you bring to our company and teams.
Our 16-week, paid returnship program is open to professionals with at least five years of experience who are returning to the workforce after a career break for caregiving of one or more years. If you meet these criteria, we welcome you to apply!
During the returnship, you'll have the opportunity to sharpen your skills, update your resume with new experiences, make connections, contribute to a team, and possibly convert to a full-time position. Along the way, you'll receive invaluable advice, support, and mentorship from OSIsoft (AVEVA)'s managers and from Path Forward.
About AVEVA + OSIsoft
AVEVA is a global leader in industrial software, driving digital transformation and sustainability. By connecting the power of information and artificial intelligence with human insight, AVEVA enables teams to use their data to unlock new value. We call this Performance Intelligence. AVEVA's comprehensive portfolio enables more than 20,000 industrial enterprises to engineer smarter, operate better and drive sustainable efficiency. AVEVA supports customers through a trusted ecosystem that includes 5,500 partners and 5,700 certified developers around the world. The company is headquartered in Cambridge, UK, with over 6,500 employees and 90 offices in over 40 countries.
OSIsoft is now part of AVEVA.
Working at OSIsoft (AVEVA)
OSIsoft is home to engineering diversity and excellence. Talk to anyone in our company and you'll notice the difference. Our engineers are hardworking, intellectually curious and supportive of their colleagues' success. We welcome new team members with enthusiasm, valuing your contributions and encouraging your growth. No wonder our people stay with us for years and decades, many for their entire careers.
Click here to visit our careers page and learn more.
The OSIsoft (AVEVA) Returnship Experience: Meet Shailaja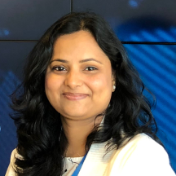 After being out of the workforce for two years, Shailaja Tuppad found it difficult to break back into her previous field. After completing a returnship at OSIsoft, she was hired there full-time as a Software Developer. She credits her easy transition back to the workforce on OSIsoft's welcoming culture.
"People here have been so friendly and supportive, and have been very accepting and welcoming."
Read her story here
.