Path Forward has partnered with Audible to offer Spring 2023 returnships. Applications are now being accepted. Click the returnship listings for position requirements and details. Apply today!


About Audible's "Next Chapter" Returnship Program
At Audible, we're excited to partner with Path Forward to support returners like you. We appreciate the skills, experiences, and perspectives you bring to our company and teams.
Our 16-week, paid returnship program is called Next Chapter. The program is open to professionals with at least five years of experience who are returning to the workforce after a career break for caregiving of one or more years. If you meet these criteria, we welcome you to apply!
During the returnship, you'll have the opportunity to revamp your skills, update your resume with new experience, make connections, contribute to a team, and possibly convert to a full-time position. Along the way, you'll receive invaluable advice, support, and mentorship from Audible's Next Chapter program managers and from Path Forward.
The returnship program is 100 percent virtual.
Upon successful completion of the returnship, there is a possibility of an offer of full-time employment. Our program offers fully remote roles as well as roles based in our Newark, NJ, Cambridge, MA, or Los Angeles, CA hubs.
Find out more about the Audible Next Chapter Returnship Program.
Returnships That Make a Difference
Returners find success at Audible! Learn how Kathryn, Nandhini, and Claudia found that a returnship at Audible was the on-ramp back into the workforce they were looking for.
Success Story: Kathryn Z.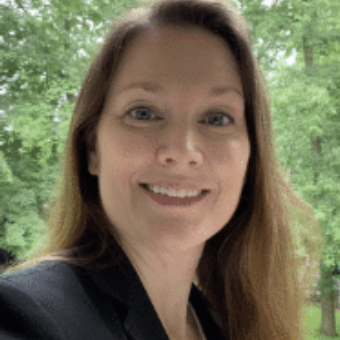 Kathryn returned to work after a three-year break by completing a returnship at Audible, where she now works full-time as a senior product manager. She credits the program for her smooth transition back into her career. "The program was so well done, in every aspect…it was clear that Audible put a lot of thought and consideration into it and that the company wanted everyone they accepted into the program to be successful," she says. Read her story here.
Success Story: Nandhini G.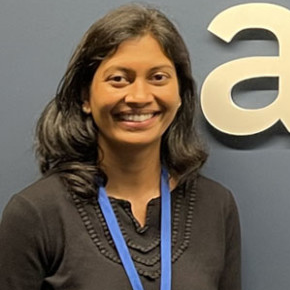 Nandhini took a 13-year break from her engineering career to care for her children and support a family move to the US. Despite earning a master's degree in computer science, she faced difficulties in her job search. Nandhini completed a returnship at Audible, where she now works full-time as a senior quality assurance engineer. Nandhini talks about her returnship experience and how Audible supported her return to work journey. Read her story here.
Success Story: Claudia G.

Claudia left the workforce in 2019 to focus on her family. When she was ready to return, the returnship program at Audible "provided just the right amount of support and resources for success" and she now works full-time as a security engineer. Her advice for returners? "If you feel imposter syndrome, meet it with enthusiasm. It only means that you have reached an opportunity that you have not had before." Read her story here.

Leadership Support for Returners
The Next Chapter Returnship Program keeps getting bigger and better, in part because it's an initiative with support from key Audible leaders.
In the article "Helping Caregivers Rejoin the Workforce," Anne Erni, chief people officer at Audible, says:
"When you're a caregiver, you're learning to refine your empathy, learning how to prioritize, to roll with the unexpected, and to navigate ambiguity, we value those skills. And being able to meet the needs of our customers is dependent on bringing these perspectives into the workplace."
The article goes on to explain what sets Next Chapter apart: "The returnship program has been carefully mapped out, with measurable benchmarks as well as channels for feedback from managers. To better prepare returnees for success, Audible provides robust mentorship programming and comprehensive training in skill gaps in areas like technology. And unlike traditional internships that fill entry-level jobs, returnees asked to stay by Audible are typically offered mid- and senior-level positions."
Audible was recently selected as a finalist for Best Workplaces for Innovators 2022 by Fast Company, which highlighted the returnship program as an example of the company's support for internal innovation and talent.
The commitment is clear in this Partner Spotlight, which features Supriya Mimani, director of HR projects, and Michael Masiello, senior vice president of software development, speaking eloquently about why offering returnships benefits the returner and is also "good for the customer, good for Audible, and good for the world."
About Working at Audible
At Audible, we innovate and inspire through the power of voice.
We're changing the narrative on storytelling. As a leading creator and provider of premium audio storytelling, we've redefined the ways people access, discover, and share stories. The stories we tell have the ability to transport and transform everyday moments into meaningful experiences and it's our people who make Audible's service possible. We're listeners, storytellers, and problem-solvers. Our perspectives and experiences power our ideas and come together in our mission to unleash the power of the spoken word.
We love good stories.
We spend our days seeking them out, dreaming up new ones, and creating incredible listening experiences. The work we do inspires, entertains and informs listeners around the world. We also value our employees' unique stories, so we place a premium on inclusion, belonging, kindness, and a fulfilling and energized life both inside and outside of the office.
We celebrate Spectrum & Belonging.
We respect and celebrate the full spectrum of human experience. That's why we encourage a sense of community both within the walls of Audible and outside of them. We celebrate the diverse and unique individuals that make our inclusion goals a reality. Spectrum and Belonging (S&B) celebrates our differences, and what it means to be truly heard. As a company with a mission to be more than what we do alone, we are committed to building and sustaining a diverse, equitable, and inclusive culture of respect that fosters connection; and we seek to empower, engage and inspire our colleagues, creators, listeners, and communities through that.