Path Forward has partnered with NBCUniversal to offer 2023 returnships. Applications are now being accepted. Click each returnship listing for position requirements and details. Apply today!

About the NBCUniversal Act Two Returnship Program
Ready to make a comeback? At NBCUniversal, we're excited to partner with Path Forward to support returners like you.
You may have put your career on pause for your family. But your talent and drive didn't pause. They were just being applied elsewhere, where they were needed most. We appreciate the diverse perspective you can provide and the contributions you will make.
The Act Two career relaunch program at NBCUniversal is a six-month, paid, fixed-term role for experienced professionals returning to the workforce after taking time off for personal reasons such as caregiving. The program is open to individuals who have at least five years of professional experience and have been out of the paid workforce (in an office/corporate environment) for at least two years. If you meet these criteria, we welcome you to apply!
Possible assignment areas include Data & Analytics, Cyber Security, Software/Application Development, Systems Engineering, Technical Infrastructure (virtualized platforms), Technical Project Management, Production Management, Operations, Facilities Project Management, and more.
During the returnship, you'll have the opportunity to sharpen your skills, update your resume with new experiences, make connections, contribute to a team, and possibly convert to a full-time position. Along the way, you'll receive invaluable advice and professional development support from NBCUniversal managers and from Path Forward.
Learn more about the Act Two program.
Returnships That Make a Difference
After a 16-year career break, Beth Frasco returned to work through the Act Two program. The returnship experience provided her with a supportive on-ramp back into the workforce.

Success Story: Beth F.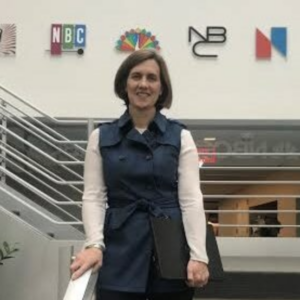 Beth returned to work through the Act Two program and now works at NBCUniversal full-time as a Senior Business Analyst. She credits the support she received for her easy transition back into the workforce. "I had regular touch-bases with my managers, and I felt comfortable asking them any questions I had. My supervisor also ensured I had a good project to work on. That piece is so key for demonstrating your experience and value." Read Beth's story here.
About NBCUniversal
NBCUniversal is one of the world's leading media and entertainment companies in the development, production, and marketing of entertainment, news, and information to a global audience. NBCUniversal owns and operates a valuable portfolio of news and entertainment television networks, a premier motion picture company, significant television production operations, a leading television stations group, and world-renowned theme parks.
Working at NBCUniversal
It is the policy of NBCUniversal and NBCUniversal's affiliated businesses to consider all qualified applicants for employment without regard to race, color, religion, national origin, sex (including pregnancy) sexual orientation, age, disability, veteran status or other characteristics protected by law.