Path Forward has partnered with Northwell Health to offer 2024 returnships. Applications are now being accepted. Click each listing for position requirements and details. Apply today!

About the Northwell Health Returnship Program
At Northwell Health, we're excited to partner again with Path Forward to support returners. We appreciate the skills, experiences and perspectives that you bring to our company and teams.
Our 16-week, paid returnship program is set aside for returning caregivers like you! The positions are open to professionals with at least five years of experience who are returning to the workforce after a career break for caregiving of two or more years. If you meet these criteria, we welcome you to apply.
During the returnship, you'll have the opportunity to revamp your skills, update your resume with new experiences, make connections, contribute to a team, and possibly convert to a full-time position. Along the way, you'll receive invaluable advice, support and mentorship from Northwell Health managers and from Path Forward.
Application information will soon be posted for the Northwell Returnship program. The returnships are available in the Greater New York metropolitan area.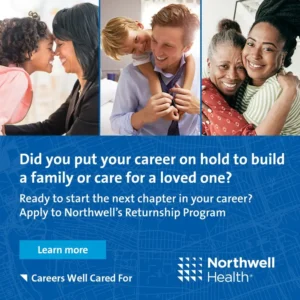 Returnships That Make a Difference

Success Story: Laura C.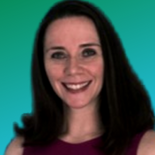 Laura took a 12-year break from her career as an HR professional, during which time she raised her kids, acted as her dad's primary caregiver for a year, and volunteered extensively. She completed her returnship in talent acquisition at Northwell Health, and now works there full-time. Laura talks about her returnship experience and how talking to both her fellow returnees and her peers helped her development.
Read her story here
.
About Northwell Health
Northwell Health is a network of collaborators, research pioneers, entrepreneurs, and educators that is 80,000 strong. As the largest health system in New York, we are privileged to treat more New Yorkers—over two million each year—than anyone else. Caring for so many of our own is how we're helping to create a brighter tomorrow.
At Northwell, we strive to improve the health of the communities we serve and are committed to providing the highest quality clinical care; educating the current and future generations of healthcare professionals; searching for new advances in medicine through the conduct of biomedical research; promoting health education; and caring for the entire community regardless of the ability to pay.
Working at Northwell Health
As we serve our communities, we never lose sight of you and your career aspirations, no matter the length and shape of your path — or its detours along the way. Raise your career expectations and discover a career well cared for with us through the Northwell Returnship program.
As you consider moving your path forward, we're proud to offer a comprehensive program for mid-career professionals to support your return to the workplace in partnership with Path Forward. Roles included in this program are within Corporate Shared Services and are non-clinical, such as Human Resources, Finance, among others. The typical program hours run from 9 a.m. to 5 p.m., Monday – Friday with all roles having the potential for job placement upon successful completion of the program.
Get a glimpse of what makes our culture unique by watching the videos below and visit NorthwellCareers.com to learn more about our organization.