Path Forward has partnered with Toast to offer 2022 returnships. Applications are now being accepted. Click the returnship listings for position requirements and details. Apply today!

Introducing the Toast Returnship Program
At Toast, we're excited to partner with Path Forward to support returners like you. We appreciate the skills, experiences, and perspectives you bring to our company and teams.
Our 16-week, paid returnship program is open to professionals with at least five years of experience who are returning to the workforce after a career break for caregiving of two or more years. If you meet these criteria, we welcome you to apply!
During the returnship, you'll have the opportunity to revamp your skills, update your resume with new experiences, make connections, contribute to a team, and possibly convert to a full-time position. Along the way, you'll receive invaluable advice, support, and mentorship from Toast program managers and from Path Forward.
About Toast
Toast is a fast-growing, global company that empowers the restaurant community with an all-in-one platform to enrich the food experience for all.  Toast is the end-to-end platform built for restaurants of all sizes. Toast provides a single platform of software as a service (SaaS) products and financial technology solutions that give restaurants everything they need to run their business across point of sale, operations, digital ordering and delivery, marketing and loyalty, and team management.
By serving as the restaurant operating system across dine-in, takeout, and delivery channels, Toast helps restaurants streamline operations, increase revenue, and deliver amazing guest experiences.
Working at Toast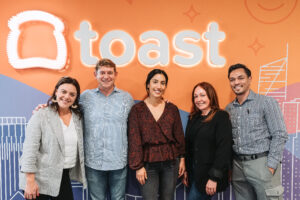 We're dedicated to building a community where all Toasters feel they belong and are supported in their careers.
That's why we're so committed to creating a future work experience that continues to build a strong foundation for what it means to communicate, collaborate, and create community with one another – no matter where we're located.
Diversity, Equity, and Inclusion are baked into our recipe for success.
Our employees are our secret ingredient. When they're powered to succeed, Toast succeeds. The restaurant industry is one of the most diverse, and we embrace that. We will only be able to achieve our goals through authenticity, inclusivity, respect, and humility. Making inclusivity and diversity a central part of our business ensures equitable opportunities for everyone – and helps us better serve our customers.
We're one team.
There's no "I" in Toast. The only way we'll succeed is by solving problems together and sharing lessons along the way. As individuals we own our actions, support and respect each other, and embrace our differences.

Click here to learn more about careers at Toast!