Company: Walmart Labs
Role: UX Designer
Shruti Katyal took a five year break from her QA engineering job, during which she had two children and relocated with her family to California. When she felt ready to return to work, Shruti decided to make a pivot into UX. She completed a returnship at Walmart Labs, which prepared her for her current role as a UX Designer at Adobe. Shruti talks about her returnship experience, how she decided to make a career change, and how her QA experience has made her a better UX designer.
Tell me a bit about your career break. What type of work did you do before taking a break? What prompted your break, and how long were you out of the workforce?
I worked as a QA engineer for almost 8 years at companies like Dell and IBM. When I had my little one, I decided to take an extended maternity break for about a year because I wanted to enjoy being a mom without having to worry about work. The baby years go by so fast and I didn't want to miss them. Soon after, my husband got relocated to California for work, and during that time I had another baby. So my planned 1 year break eventually turned into 5 years. 
What prompted you to return to work – and what was behind your decision to pivot into UX Design?
When I was a QA engineer, I was once working on a project with a designer, and remember thinking that I loved what they were doing. So I did some research about what a design career entailed, and how I could switch into one. It was hard to leave the "safe zone" of QA engineering and pivot into a new career. I asked my manager if I could try my hand at a design project, if I would continue to do all of my QA responsibilities. When I had a chance to try it out, I realized that I loved it. However, when I had my daughter, I decided to take a career break and left everything behind.
When my daughter was 2, I started feeling a need to go back to work. I felt I had devoted the past 2 years to being a full-time mom, and that there was more to me than just being a mom. But I wasn't ready to leave my daughter in a daycare or with a nanny for a full day, so I started a small business from home that was focused on designing discreet nursing wear for new moms, for which there was a gap in the Indian clothing market. It felt fulfilling to help other moms who were going through a similar journey as me. I again noticed that I enjoyed the design aspects of the business, like making the website and the marketing materials, more than I enjoyed my previous QA role. 
That was what convinced me that maybe I was meant to be a designer, and that this was my calling. I started researching design roles, and learned about UX. And I realized that it was the perfect role for me. 
How long were you actively looking for work prior to applying for a returnship?
I had been actively looking for over a year. When I started applying for UX design jobs, there were always questions about my lack of degree in design, as well as my career gap. I faced so many rejections that I started to wonder if returning to work would ever be possible. I had almost given up but then I learned about Path Forward from a friend, who was also a mom returning to work. 
Did you take any classes or complete any training in preparation for your return to work?
When I decided to pivot into UX design, I started studying. I took online courses on lynda.com, Udemy, and Coursera. I also did a few volunteer design projects, like helping my cousin build a website for his startup, which added to the experience I had gained from my business venture. That allowed me to build up a small portfolio of my own work. 
During the application process, how did you "sell" yourself as a UX designer to Walmart? What are some ways you convinced them to give you a chance?
Walmart had given the applicants a design challenge, which gave me a chance to show off my design skills and how I approached a problem. My portfolio also gave an overall picture of the projects that I had taken up over the past few years. 
I also made sure to tell a good story about all of my previous experience. I framed it as – "I was a QA engineer, I wanted to become a UX designer, so this is what I've done to prepare." I talked about my time as a QA engineer and how that would add value to my work as a UX designer, and about starting and expanding my nursing clothing business in India. All of those things count when applying. The best part was that, during my returnship interview, no one brought up my career break, or used it against me. There was no talk about my skills being rusty, or anyone doubting my abilities. They focused only on my experience and the design challenge I had completed. I guess all of that resonated with my hiring manager, so I was offered the returnship.
What was your returnship role?
I was a UX Designer on the Home and Fashion team, where I worked on Augmented Reality – a feature on the mobile app that lets you view the furniture/home decor in your home setting to make better purchase decisions. It was a great experience. I was able to learn a lot in a short time just by working closely with an amazing team, who helped make my transition back to work so much smoother.
What was your experience returning to work at Walmart?
On my first day, I was welcomed by a card signed by the whole team and beautiful orchids waiting on my desk, and those little gestures made me feel valued from the beginning. I was introduced to my mentor, and assigned a buddy. They helped me get started on my assigned project, and were very approachable and supportive throughout my returnship. My mentor was also a working mom, and she empathized a lot with me on days where, for instance, I wasn't feeling great about leaving for work while my kids were crying. We started out meeting every morning for a 15 minute check-in, and then switched to meeting every other day, which gave me a chance to ask questions or get guidance.
I was a bit unsure of myself at first, but once I started contributing to the team, I got more confident in my abilities and became convinced that this was the right place and role for me. 
It was a pleasant change not having to look after kids for a few hours, drinking a hot cup of coffee, and having lunch without anyone poking their fingers into it. And my kids and husband teamed up to manage the house while I was at work, which was another big win for me! Returning to work was definitely stepping out of my comfort zone after having been at home for 5 years, but the structure of the program made the transition so much easier.  
What did you do after your returnship at Walmart ended?
During my returnship at Walmart, I tried to keep my focus on learning all that I could during the 16 weeks and not so much on whether or not I would get converted. That helped me make the most of my returnship. I don't think there was a single day where I felt that I wasn't learning enough, and by the end of the returnship I had gained so many new skills and improved my  portfolio.
After my returnship ended, I took a bit of a break to upskill myself in some areas where I had received actionable feedback from my returnship mentor. Walmart had given me enough great experience to show that I knew what the job entailed and that I had the skills to do it well.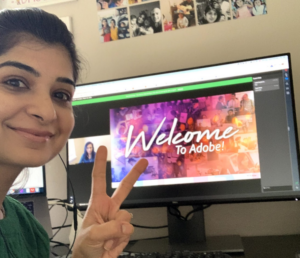 What role are you in now?
I'm now a UX designer on a wonderful team at Adobe. I'm able to set a flexible schedule, and everyone is so supportive and understanding about work-life balance.
How did you frame your returnship on your resume when applying for jobs?
When I was applying to Adobe, I briefly mentioned that I took a break to care for my kids, that I was now ready to go back to work, and that I had completed a 16-week returnship. However, their focus was primarily on the portfolio, which I had improved on during my returnship at Walmart.
How did your returnship prepare you for your current role at Adobe?
I remember starting my returnship with a bit of impostor syndrome, due to my career break. No matter how confident I felt, those thoughts of "you're not good enough, you're slow, you'll fall behind" crept in. But I was able to overcome those feelings during my returnship program. I feel great about the projects I accomplished there, and it's helped me become more confident in my role at Adobe.
Are there any skills from your pre-break career that you use in your current role? What about skills you gained during your career break?
When I first started applying for jobs, I would hide my previous role in QA, because I thought that it would be counted against me when applying for UX jobs. But I realized that my QA skills added strength to my design experience. Having been a QA engineer, I can understand what the development process looks like and find issues at a much earlier stage in the design process. I had also led a team of QA engineers, which gave me communication and leadership skills.
During the break, I feel being a mom taught me to be even more creative, manage my time well, and be patient with everyone. I can get a lot more done in less time because I know what to prioritize, and I'm less distracted. These are not just important work skills, but life skills.
I also got a lot of great experience from my business venture and my volunteer projects, all of which gave me some real hands-on experience that helped during my returnship.
What did you find most helpful about being part of a Path Forward program?
I was very happy to find my tribe – moms who had a similar journey as mine. That was the first time I could talk so confidently about taking a break to raise my kids. 
What I found most helpful was the structure of the program – the Path Forward workshops provided a sort of check-in to see how we were doing with our team, and to provide advice on any issues we were having. The program had the right balance of support and encouragement that gave me a sense of confidence, and the right kind of push. The alumni sessions were also very helpful. Hearing from previous returnees, who were doing so well in their current roles, gave me more confidence in my abilities and made me feel like I wasn't as behind in my career as I thought.
The program also offered a chance to grow your network. Being a returnee, and being new at a company, gives you a great opportunity to reach out to people and ask if they have time to meet for coffee and chat. I made sure to connect with a lot of people at Walmart that way, who I'm still in touch with.
Finally, just the existence of the program was life changing for me, because I couldn't have had all of these opportunities without a returnship. I truly don't think I would have been able to get to where I am right now if not for Path Forward.
What are you most proud of accomplishing during your returnship?
That I was able to successfully transition into a UX designer from a QA engineer, which was basically a dream come true for me. Even though I had put my heart and soul into studying to be a designer, I still felt that I did not belong. But those 16 weeks truly transformed me. Working with the best team of designers at Walmart and being able to contribute was a big boost to my confidence.
I also learned a lot about managing work-life balance during my returnship, which is helpful to me now. I think it's important to make sure that you're happy, and to make sure that you aren't feeling unfulfilled in some part of your life. Working made me realize that there's more to my life than being a mom, and that it's important to make time for yourself and your own goals. Find a time to focus on a project or hobby, and build a habit of it. I've personally picked up meditating and painting. I think taking that time for myself has made me a lot more patient and calmer, even if my kids make a mess or I'm feeling overwhelmed. 
Do you have any advice for future returnees?
At your returnship, it's very natural to get caught up in that anxiety of getting converted into a full time role, but don't let that get in your way. For me, not getting converted was a blessing in disguise. I was spending way too much time on my commute, which was very tiring and took time away from my family. And when I started applying again, I felt very confident because my portfolio looked a lot better, with the experience I had gained. My advice would be to make the most of the 16 weeks you've got, and to focus on learning from your team, which will give you enough to get you started on the next amazing chapter in your career.