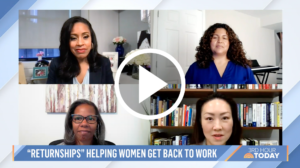 Did you catch Path Forward on the TODAY Show?
Sheinelle Jones, co-host of NBC's TODAY show, interviewed three members of the Path Forward community for their take on the caregiving crisis, women's careers, and the challenges of returning to the workforce after a career break. Each found resources and support through Path Forward. Be inspired by the stories of Arnetta, Claudia, and Amy!
Watch now and sign up to follow in their footsteps to restart YOUR career.

For more than five years, Path Forward has paved the way for stay-at-home moms and other caregivers to restart their professional lives after a career break. As a national nonprofit, Path Forward partners with more than 100 top companies to create returnships, which are supportive on-ramps back to work that provide returners with an opportunity to refresh their skills, gain recent paid experience, and benefit from a warm community of mentors and colleagues.
---
Learn More