When starting your job search, the resumé advice you'll usually get is to hide any and all career gaps. 
That's because of the unfortunate stigma that still exists around hiring people with career breaks, especially those who left to provide family care. 
Hiding your gap might be sound advice in general, but it's a mistake when applying for a returnship. For these opportunities, there's no need to justify your time away or to "hide" your career gap behind freelance and consulting titles. 
Returnship employers want to see that you've taken two or more years off as a parent or caregiver. In fact, it's the screen to ensure you're qualified for a returnship in the first place.
How refreshing, right? 
When applying for a returnship, our suggestion is to submit a modified version of your resumé so you can state upfront that you're a returner. Two options for doing so are to:
Indicate in your summary statement that you took a career break for caregiving; or

Create a separate block in the experience section listing the dates of your career break and a brief explanation, such as "Career break to accommodate family caregiving." You can even use this block to highlight any reskilling opportunities you've taken advantage of to prepare for your re-entry into the workforce.
Here's a great example: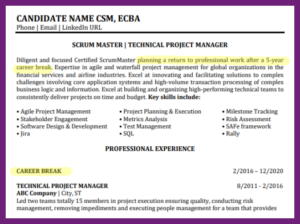 Returnship opportunities are created specifically for individuals like you – experienced professionals who are coming back from a career break and have the dedication, energy, and skills to benefit the teams they join.
Beyond your resume, a new LinkedIn feature now allows you to add career breaks to the experience section of your profile.
In the meantime, it is Path Forward's mission to make career gaps the norm, so that all breaks to care for family are not questioned, but honored and celebrated. Take pride in your time off and remember all that you have to offer!
For additional advice about updating your resumé, view our Revamping Your Resumé webinar.