Varsha Munishwar took a three year break from her software engineering career to care for her children and spend more time with her family. When she was ready to return, Varsha learned about Path Forward returnship program. After reading several participant success stories on the Path Forward site, she was inspired to apply. She completed a returnship at VMware, where she now works full-time as a Software Engineer. Varsha talks about her return-to-work experience, and the support she received from both VMware and Path Forward during her journey.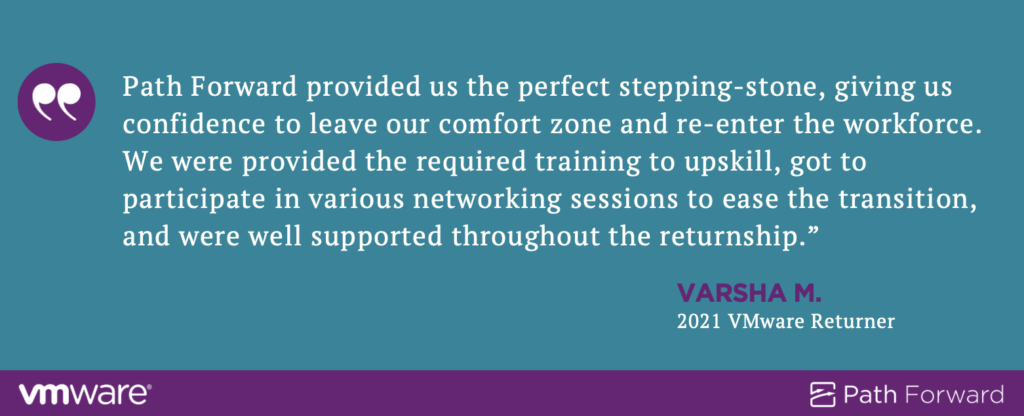 What type of work did you do before you took a break? What prompted your break, and how long were you out of the workforce?
I have a Master's degree in Software Engineering, and before my break, I worked as a software engineer in various industries, including the hospitality, banking, and credit card domain, for more than 8 years. I worked for leading financial institutions like JPMorgan Chase, American Express and hotel chains like Choice Hotels.
After my second baby, I decided to take a break to take care of my infant son and elder daughter and to spend some time with my family. My plan was to return to work once my son started daycare. However, when the pandemic hit, I had to postpone my plan to return to work. Around that time my work authorization also expired, and my new authorization took almost a year to arrive. At that point, I was out of the workforce for about three years. That was when I started searching for jobs and upskilling myself, and did a few refresher courses on Algorithms, Java, Spring and Web Services.
While searching for job opportunities, I came across Path Forward. I got inspired by their webinars, led by Path Forward founder and CEO Tami Forman, and by the success stories of other returners. Their stories resonated with me because I felt like they were the same as mine – many had similar work experience, took a break to take care of a baby and family, and after a few years, wanted to look for an opportunity to return to work. As soon as I received my work permit, I started applying for jobs and it was at that time I learned about the Path Forward opportunities at VMware. The requirement for this opportunity matched with my experience level and 2+ years gap. I thought it was the perfect opportunity. Even though the work for this project was in a totally different domain and entirely out of my comfort zone, I applied for the job.
After completing the interview process, when I learned that I was selected, I was a mix of excited and nervous. I had a lot of questions – how will I adjust to the new work environment, will I be able to cope with a new domain and learning new technical skills while taking care of kids and other family responsibilities.
But I knew that I would get a lot of support from the Path Forward and the VMware team and technical/community mentors throughout the returnship.
I also had the chance to reach out to VMware returners from earlier cohorts to understand their journey and the structure of the program. They were very helpful, and all mentioned that the support they received from both Path Forward and VMware was amazing. So, I felt very confident and excited to take the first step of this journey.
What was your returnship at VMware like?
I returned to work through a returnship on the VMware Carvel team. It's an open-source project with work in Golang for templating and managing application lifecycle and deployment in Kubernetes.
My new work was in a completely different domain, and I needed to start from the basics. I was overwhelmed and a bit lost in the myriad of information. It was not easy to understand and dive into a completely different domain with the new technologies, programming and configuration languages, and the open-source community experience. I was not sure where to start and had so many questions. 
As part of VMware's Ascent Return to Work program, I received training to sharpen my skills. It also provided me an opportunity to learn in a live virtual classroom, and to communicate and network with other returners from my cohort. We even had a returner Slack channel to reach out to each other and help each other throughout the returnship.
I got help from my manager, who put together a 30 – 60 – 90 days plan for me to slowly ramp up. Fortunately, I also had a very knowledgeable technical mentor who enjoyed teaching. We started having 1:1 conversations twice a week, and those were some of the most important learning sessions I had during my returnship. He provided me with the basic knowledge required to start working on the project. He also provided the information, details, and context on the stories I was working on, and used analogies from my own experience to explain new concepts. My entire team was very understanding and supportive, and provided the helpful resources and tutorials to learn various skills required in the project.
What did you find most helpful about being part of a Path Forward program at VMware?
Path Forward provided us the perfect stepping-stone, giving us confidence to leave our comfort zone and re-enter the workforce. We were provided the required training to upskill, got to participate in various networking sessions to ease the transition, and were well supported throughout the returnship.
Entering the workforce through this program provided a great opportunity to slowly ramp up while getting full support and cooperation from the teams at VMware and Path Forward. 
The well-defined 90 day onboarding plan, having a technical and community mentor, the support from my team at VMware, and the guidance from the networking sessions from the Path Forward team were the most helpful parts of this returnship program.