After a 15-year career break, Wanda Chiu returned to her engineering career with a returnship at Cloudflare in 2016. Several years later, she started a new role at Mux.
In this video, Tami Forman, Executive Director of Path Forward, asked Wanda why she encouraged Mux to start a returnship program. In short, Wanda has so enjoyed the supportive culture at Mux that she knows it will make the perfect landing spot for other returners.

Thanks for sharing your story, Wanda! We are so happy you've found success and balance in your career.
– The Path Forward Team


---
VIDEO TRANSCRIPT
Tami Forman: So, Wanda, you came back to the workforce at Cloudflare, back in 2016, back when Path Forward was first launching. You went to another company after that, and now you're at Mux. So I would love to hear why it is that you introduced the Path Forward program to the folks at Mux, and why you think it's going to be such a great place for returners.
Wanda Chiu: Mux is actually my third job since I returned to the workforce about six years ago. I've only been at Mux around 10 months, so I'm actually a new employee here.
I've found the culture just so supportive for new employees. It doesn't matter whether you're a returnee or someone who has recent experience. It's just been so supportive. 
For example, when I applied I didn't have all of the skill sets for my current position, because I was using a different tech stack at my previous job. And what I found was that the company really means what they say – they're not just looking to check a box if you have this skill set or this technology on your resume. It's really about looking for individuals that have good design and problem-solving skills and who are really enthusiastic about their own growth and willingness to learn.
Talking about not hiding your gap: I actually don't hide my gap even now. When I would go on interviews, I would mention that I did have this gap. I mentioned that to my hiring manager at the time, and he really found that to be a really great attribute and advantageous to me. He literally said, "If you're able to learn something after taking a break of 15 years, I have full confidence that you can learn anything that you need to learn on the job." It really just shows that my manager and Mux really values the higher level skill set, your problem solving skills, aside from whether you have the technology on your resume or not.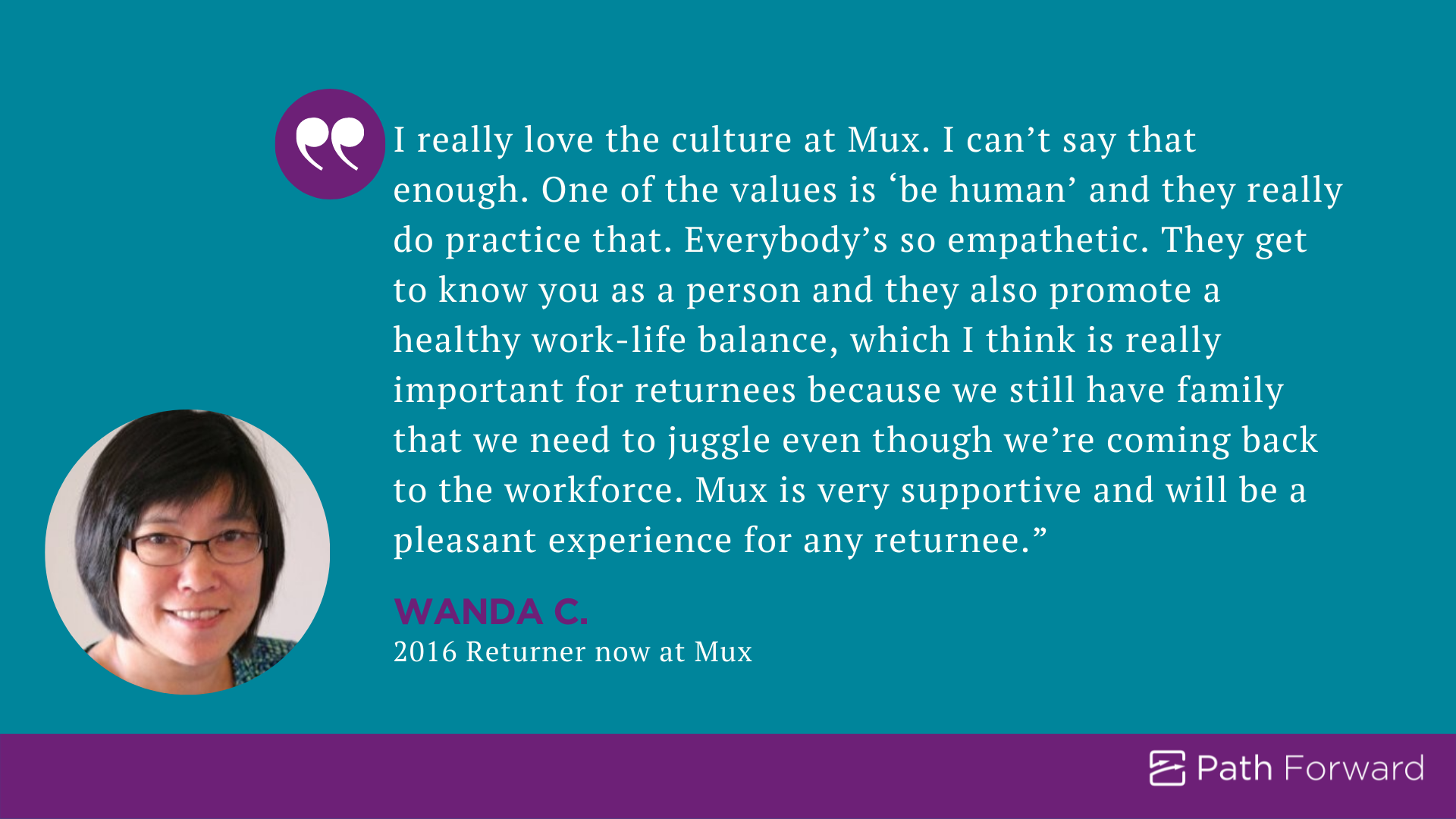 Mux has a really good onboarding process, both to onboard you into the engineering team and also just within the company. The people ops have an awesome system for making sure you meet [everyone], even leadership.
You really feel you're part of the company and the team. All of the engineers are just so empathetic and so willing to help and answer questions, that you never feel like you are at a loss. There's no ego in the company and everybody's willing to help. 
Aside from that, I really love the culture. I really can't say that enough. For example, one of the values is, "be human." They really do practice that – I mean everybody's so empathetic. They get to know you as a person, and they also promote a healthy work-life balance, which I think is really important for returnees because we still have family that we need to juggle, even though we're coming back to the workforce. 
Management is very transparent, and so you really feel like you're part of the company, and they really promote career development. I have career development conversations with my manager and he's really always looking for opportunities to allow me to get to where I want to be.
In summary, I feel that Mux is very supportive, and will be a pleasant experience for any returnee. That's why I told Mux about Path Forward, because I'm a fan of Path Forward and I have to say that, at other companies that I worked for previously I didn't feel that I would tell them about Path Forward because I just didn't think they have the culture to really welcome returnees and make them feel successful. Whereas I really feel that, for Mux, it's going to be a win-win situation for both returnees and for Mux to be part of this program.