Senior Director of Engineering Lilit Div helped kickstart the returnship program at VMware. She tells us about getting the program off the ground, her experience as a hiring manager, and how she and her team provided support and mentorship as their returnees transitioned back into the workforce. 
Company: VMWare
Role: Senior Director of Engineering
Tell us a little bit about yourself. How long have you been at your company? How long have you been managing a staff?
I've been at VMware for eight and a half years. I started in a senior engineering role as an individual contributor working on their Socialcast product, which is no longer part of VMWare's portfolio. About 6 years ago I transitioned into a management role, and three years ago when SocialCast was End Of Lifed, I moved to work on the End User Computing flagship product, WorkSpace One. 
How did you get involved in the returnship program at your company? What made you choose to participate?
As a hiring manager, it's always a challenge to find good people. The Bay Area market is very competitive and positions are hard to fill. Some of the more successful engineers on my team haven't gone through the conventional engineering path – one engineer is self taught who doesn't really have an official Bachelor's degree and another one has a PhD in Chemistry. She was a stay-at-home mom who decided to change her career path and become a web developer when she went back to work. She taught herself, took simple jobs with lower pay and gradually worked her way up to a full time front end developer position. Oftentimes, people who come from nontraditional backgrounds had to work harder to get to where they are, and because of that are more appreciative of the role, are hungry to learn, show a lot of potential, and bring different perspectives to the team.

VMware really values diversity and inclusion, and we constantly think of ways we can attract more diverse talent. I did some research and found out about returnships, and the program sounded like a win-win, a good way to not just to tap into a source of diverse talent but to nurture it.   
We worked on a very tight timeline to get this program kicked off. Usually, starting new projects takes a really long time, but we received a lot of help from key stakeholders in EUC (End User Computing). It really does take a village but everyone was sold on the idea, which made it possible to make it. We decided to try this out as a pilot program, and we were very happy with the results. It was especially exciting to see other managers choose to participate in the program and bring returnees onto their teams. They believed in the idea of returnships, invested in it, and wanted to see the program succeed.
What was your mindset going into the returnship?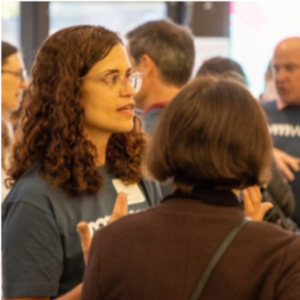 I had some doubts going in, but when VMware took part in Path Forward's career restart hiring event to kick off the program, I met all these great candidates, and I began to feel like everything fell into its place. I was so encouraged by the people I met. I felt their enthusiasm and saw great potential.
When it came to my initial phone interviews with returnees, the most important thing for me was getting a sense of their motivation and potential for learning and growth, even if their work experience was not current with the market.
In what ways did you find Path Forward's training sessions helpful for managing your returnee?
The training we had on what to expect from returnees was very helpful. It made me adjust how I introduced myself and the company to the returnees from the beginning, during the interview stage. I'm usually very direct and to-the-point, but with the returnees I took more time to make sure they were settled in and comfortable from the get-go. 
Can you talk a little bit about the support you put in place for your returnee?
I assigned my returnee a mentor. I specifically picked someone who I thought would make my returnee feel more comfortable, and open a channel of judgement-free communication. I set a time to meet with them every week to set expectations, to look at areas of improvement, and to get feedback from her on where I could do more to support them. 
Did you put your returnee to work on mission-critical projects right away? What was your returnee's onboarding like?
Generally, there was an understanding that the returnees would take some time to ramp-up and learn the product, processes and technology. For the first couple of weeks, that was the focus. I started the returnee working on a fairly new, self-contained project which was mission critical, but did not have a tight deadline. It allowed them to both learn the code functionality, and to make sure that they could get into the rhythm of our coding process – reviewing, testing, and making sure that they had access to all of the systems needed. As time went on, we increased the complexity of the tasks. I tried to treat them as an engineer who was a regular part of the team.
How has this initiative changed the way you look at your company?
I've always thought VMware is a great company to work for. Its values of execution, passion, integrity, customers, and community (EPIC2) are engraved in our culture. This program is another example of how VMware's leadership walks the walk. It received executive support from inception.
Ultimately, I see the effort that VMware is putting into starting programs that increase diversity and inclusion, and I'm seeing a recognition that these are ways to find new sources of talent and potential, which is a crucial part to making programs like returnships successful.