There are hundreds of return to work programs that have welcomed returning talent in the US. Wondering which companies have programs and which ones are hiring returners now? We've made it easy for you with the lists below. 
Path Forward Return to Work Partner Programs Recruiting Now
Path Forward continuously offers return to work opportunities through our 100 (and growing!) hiring partners across the US. These companies are hiring NOW, so check out their roles and apply today.
Don't see the right company, location or role for you? Join our mailing list on the right to get job alerts when new opportunities are added.

Free Webinar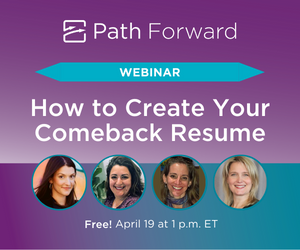 If it's been a long time since you last wrote a resume, this webinar is for you! Join us on April 19 to learn the best tips and strategies for creating your comeback resume. You'll also hear from two inspiring Path Forward alumni who describe their return-to-work journeys and the resume advice they found most helpful.
Register here
»
Other Return to Work Programs with Current Openings
Below is a list of other companies with return to work programs – not affiliated with or verified by Path Forward – that have current openings.
Other Opportunities for Returners
Below are some other events and fellowships open to, but not necessarily reserved for, those returning to the workforce.
All U.S. Return to Work Programs
We've compiled a complete list of every return to work program that is offering or has offered U.S.-based opportunities. The starred (★) programs are ones that include Path Forward returner support and community access. Know of a new return to work program that isn't listed here? Email us at [email protected].